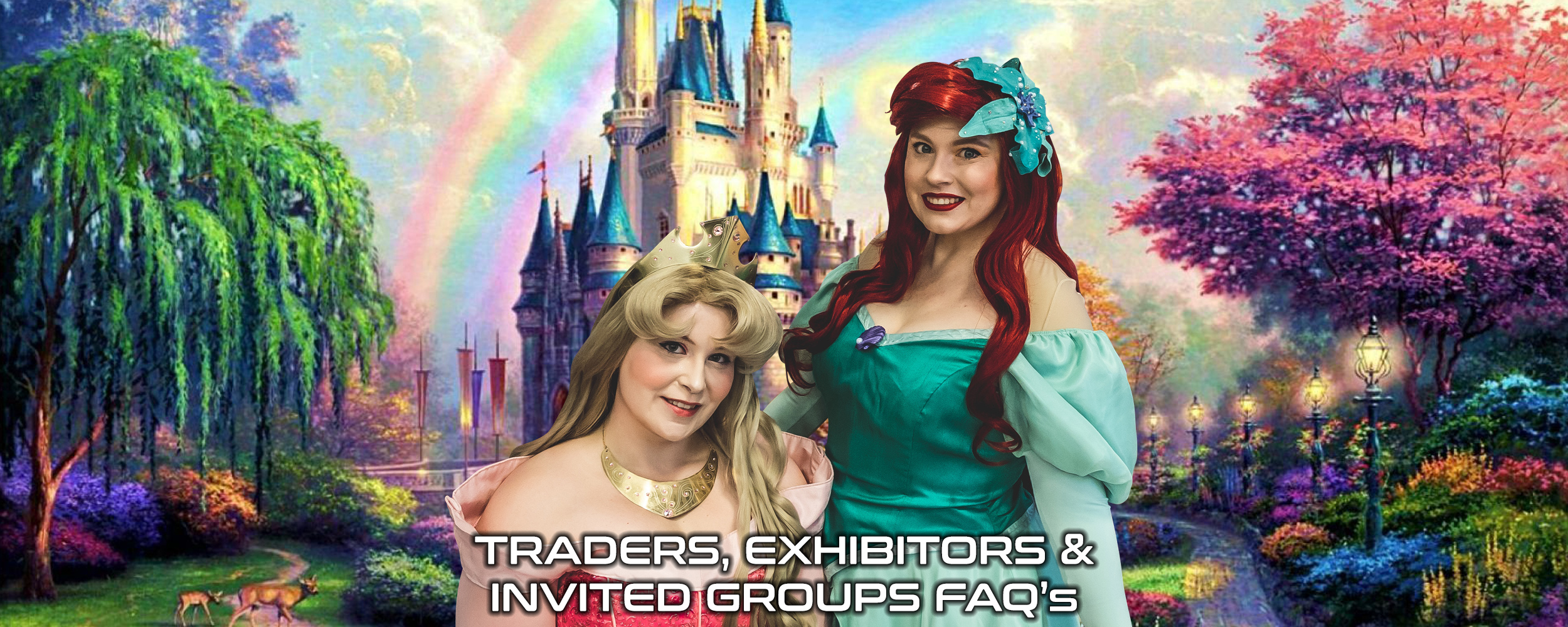 We have put together some important information for all you exhibitors, traders and invited groups, hereby collectively referred to as "Exhibitors", attending this years NORCON, because that's how much we love to look after you all.
Anything that we haven't covered below and you need an answer, just ask us via the form provided.
Pitches come in three Class sizes, A. B and C.
Class A pitches are largest 2.5m wide x 2m with 2x tables, 2x chairs
Class B Pitches are 2m x 2m with table and chair supplied and back onto a wall
Class C Pitches are central and are 2m x 2m with Table & Chair supplied
Pitches come in three Class sizes, A. B and C.
Class A pitches are largest 2.5m wide x 2m with 2x tables, 2x chairs
Class B Pitches are 2m x 2m with table and chair supplied and back onto a wall
Class C Pitches are central and are 2m x 2m with Table & Chair supplied
All tables MUST be covered
Exhibitors are not permitted to erect any shelving or tables outside of their pitch area without explicit permission from The Organisers.
Tables supplied are approximately 6.5ft x 2ft trestle tables.
Please see the dealer booking page for more details.
No. All trestle tables are supplied by us. You can purchase extra tables at a small charge if needed when you order or direct from us at the show on setup days
Setup is available from 15:00 on Friday 27th September 2024 until 20:00. We would advise Exhibitors to set up as early as possible. PLEASE DO NOT TURN UP EARLIER THAN 15:00 YOU WILL NOT BE ALLOWED TO SET UP.
Setup Saturday 28th September 2024 will be from 06:00 until 09:00 latest.
All Exhibitors pitches MUST be setup and completed and any walkways cleared by 09:00 on the day of the event. Doors will be secured at 09:00 and no exterior access granted after this time for security reasons.
The Organisers reserve the right to refuse admission to Exhibitors on late arrival.
Yes you can – we now use an interactive map allowing you to select your pitch directly. Just point and click to add your pitch and then add tables, chairs.
Please be advised though that we may have to swap pitches from time to time to ensure two similar traders are not too close to one another and we will advise you at the earliest possibility if we have to do this.
Some trader pitches are located facing the stage area and whilst this is great as you can watch all the stage acts they are prone to increased volume from the stage PA system and music – please bear this in mind when booking your pitch as we will not be adjusting sound levels for the event. If you are unhappy with noise please try to book a trader pitch away from the main stage area.
There is NO Clear down permitted until after 16:00 hrs when the event officially closes.
ALL traders MUST have cleared down and vacated the venue by no later than 19:00 on Sunday 24th September.
Any traders failing to have cleared down by 19:00 and not have left the premises may not be invited to trade with us at the next event. In the past we have had isolated incidents of traders taking far too long to clear away. We are obliged to be out of the premises and have it secured by a certain time and we will adhere to this.
Traders/Exhibitors are responsible for clearing their own rubbish away. All items and rubbish must be removed after the event and Exhibitors may be charged for any items and/or rubbish remaining on site or any cleaning that is necessary due to them.
All traders must be selling or trading goods and services that are conducive with the theme of TV, Film, Comics, Fantasy etc.
Traders/Exhibitors this means that we will not accept any traders or exhibitors that we deem do not fit into the theme of the event and we reserve the right to cancel any booking at any time and issue a refund.
If you wish to sell any type of food items, please check with us first
Please be aware that NORCON does not tolerate counterfeit products and will support trading standards and licensors with any action required. Any branded products are required to be fully licensed and clearly labelled. Please ensure you have proof of license or purchase receipts for these products. Traders or Exhibitors found to be selling fake/unlicensed products will be expected to stop all sale of such items, and at the organisers discretion, may be asked to leave the event, with no refund.


Items we will not allow to be sold:
1. Alcohol in any form.
2. Smoking, Tobacco or Vaping Merchandise.
3. Pirated DVDs, Blu Rays or CDs
4. Bladed weapons (unless by specific authorisation with the organiser)
5. Any material or merchandise that advertises or commemorates any NORCON event or has the NORCON brand/Logo on it.
6. External Charity or Informational organisations without prior permission.
If you wish to sell any type of food items, please check with us first
Artist Tables are solely intended for Artists/Writers/Illustrators etc. to promote and sell their own work and provide live sketches/commissions and signings. Anyone interested in selling merchandise other than that mentioned should purchase a dealer table(s). Anyone found to be just trading and not offering live sketches or book signings will be asked to pay the additional cost of a relevant trader pitch. The promoters decision is final and intended to keep it fair for all.
Signers or guests are NOT permitted at any trader or exhibitor table unless by prior agreement with the event organiser.
We do not accept any external charities to purchase trader pitches unless by prior agreement. Please email us via our Contact Us page.
There is ample parking at the rear of the venue for traders and directions to a designated trader parking area will be sent to you before the event.
Each dealer booking will come with 2x unique dealer wristbands per pitch.
Dealers will be required to wear their wristbands for the entire event. Lost, damaged or misplaced wristbands will need to be replaced at the standard admission rate.
Additional wristbands can be ordered and paid for online via the BOOK TICKETS page on our website
No, we do not supply table covers of any type.
You must supply these and ALL tables must be covered. NO bare tables are allowed.
Yes – you can use backing boards and shelves as long as they are kept within your pitch area and are no higher than 2.5m.
It is traders responsibility to ensure all backing shelves and display boards/racks are secure.
NOTHING can be affixed to the venue walls. Any damage to the event location will be billed to the relevant pitch holder.
There will be a free WiFi service available. There is also 4G coverage in the area. A lot of past traders have used this for their PDQ machines and payment devices
We have a NO refund policy here at NORCON. All pitch sales are full and final and we cannot offer a refund. If you can no longer attend, please let us know.
INSURANCE
The Exhibitor must maintain Public Liability Insurance with a reputable insurer throughout the event against his/her liability to third parties with a minimum limit of £5,000,000. A copy of this insurance certificate must be produced at any time on request. The Exhibitor must also ensure that they have adequate, relevant insurance to cover all liabilities, including cancellation and curtailment, as well as loss or damage to the Exhibitors property. The Exhibitor also agrees to indemnify The Organisers, its officers, staff, representatives and agents against all or any claims, which may arise.
LIABILITY
The Organisers, its officers, staff, and representatives shall not be liable for any loss, theft, damage or injury to persons or property on The Norfolk Showground site. The Exhibitor will assume full responsibility for any third party claim arising from his/her own exhibit or conduct.
COMPLIANCE
All exhibitors shall observe and comply with, in addition to these terms and conditions, all relevant laws and other directions, codes of practice or guidelines imposed by The Organisers and/or any law or other competent authority applicable to the event.
DISCLAIMER
The Organisers, its officers, employees, agents and representatives shall have no liability whatsoever in respect of all and any action, claim, demand, proceedings, costs, expenses, fines, penalties loss or damage whatsoever arising out of or connected with the participation by any person firm or company in whatever capacity in the event including but not limited to arising or resulting from or connected with the loss injury or damage sustained by or to any third party, any refusal by insurers to meet in full or in part or at all any claim or the seizure or taking of possession of any equipment. This shall not operate or be construed to operate to exclude or restrict the legal liability of The Organisers for death or personal injury caused by its negligence. Each entrant for itself and all those for whom it is directly or indirectly responsible shall indemnify and hold The Organisers harmless from and against all costs and expenses of whatever nature, actions, proceedings, claims, demands and damages made against The Organisers, its offices and/or representatives arising from any breach of its obligations to The Organisers or from any acts or omissions on the part of the entrant and/or those for whom it is so responsible.
Please note that when placing your pitch/exhibitor booking or accepting an invite to exhibit as a group you are accepting the our Terms & Conditions and having read, understood and accepted our Exhibitor FAQ's.