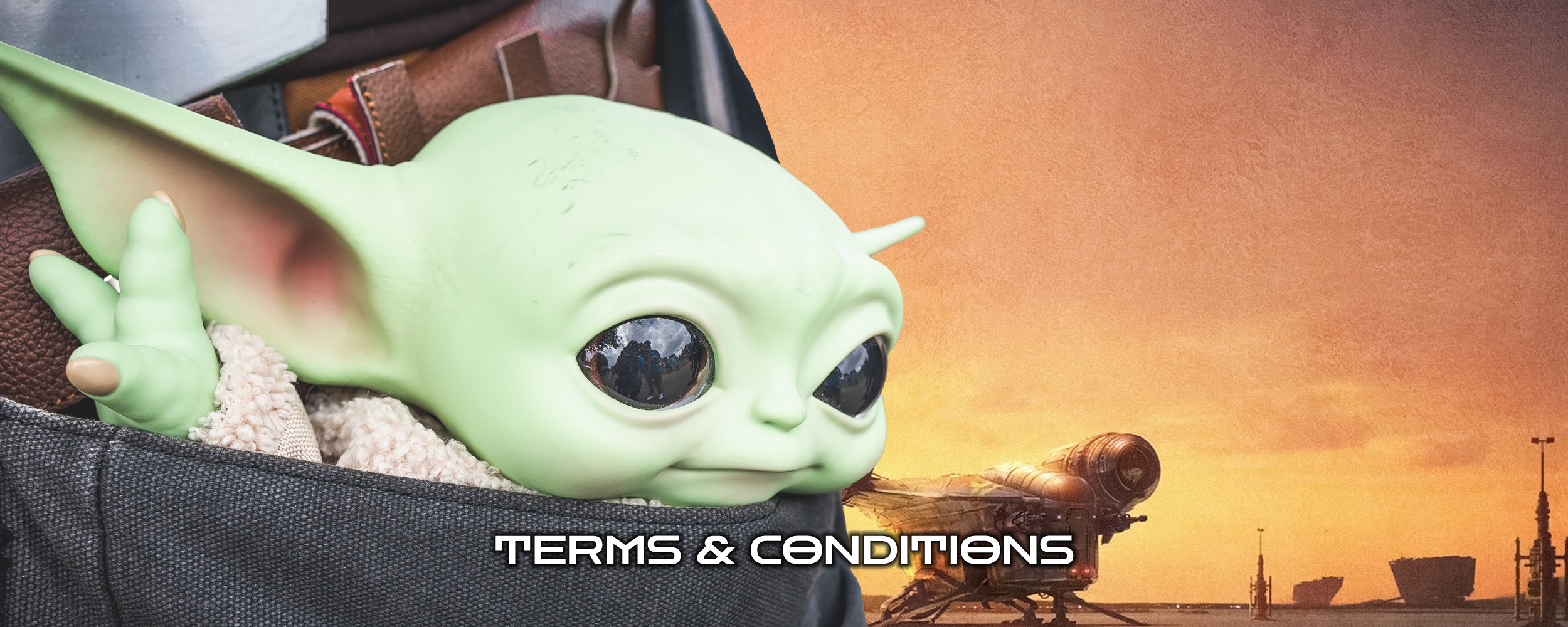 THE PURCHASE AND SUCCEEDING POSSESSION OF A TICKET OR INVITATION OF A GROUP OR EXHIBITOR SHALL CONSTITUTE AN ACCEPTANCE BY THE HOLDER OF THE TERMS, CONDITIONS AND ADVICE DETAILED BELOW AND IMPLY AN UNDERTAKING ON THE PART OF THE HOLDER TO OBSERVE THEM.
NORCON

Events Limited are not responsible for lost, stolen, or damaged property, or for injuries sustained during the course of the convention.
Announced events and guests are subject to change and/or cancellation without notice. Every effort will be made to announce any changes via the Internet, pre-convention publications, and our onsite newsletter, but sometimes last-minute changes will occur. We have absolutely NO control over guest appearances.
Please be aware that ALL tickets once booked in advance or bought on the day are NON-TRANSFERABLE and NON-REFUNDABLE under any circumstances or for any reason.
All ticket purchasers should be aged 16 or older.
You enter the event site and car parks at your own risk. The organisers, and their agents and contractors, shall not be held liable for any loss, damage or injury of any kind.
The resale or attempted resale of a purchased ticket is illegal and will render them VOID and anyone found using it or they will be refused entry. Tickets breaching our terms & conditions will be cancelled without refund.
Duplicated and copied tickets will not be accepted and are not valid.
Access to the venue is controlled by a unique number and barcode which can only be used once. The first person to present this ticket at the entry point will be considered the genuine owner of the ticket and will be admitted to the venue.
Whilst we will take every reasonable precaution to ensure attendees safety, we cannot be held responsible for the transmission of any communicable diseases or viruses.
Whilst every effort is made to ensure the full, advertised entertainment or stage chats performs, this ticket is for the

NORCON

event and not a specific guest/band or performance. Please note that the line-up is subject to change, without prior notice, if circumstances beyond our control dictate this.
All ticket holders will be issued a wristband, which controls access. Do not remove the wristband at any time as it will invalidate your entry.
Please be aware that we never know what cosplay costumes will be appearing on the day, this is completely random and that some costumes may be a little intimidating or scary to small children and some visitors.
Harassment of any kind, including physically or verbally threatening, annoying, unwelcoming attentions, stalking, pushing, shoving or use of physical force; which in any way creates a disturbance that is disruptive or dangerous, as well as any boisterous, lewd or generally offensive behaviour or language, using sexually explicit or offensive language or conduct, or profanity, obscene gestures or racial, religious or ethnic slurs will be considered harassment. You WILL be asked to leave the convention and there will be no refund and no re admission.
Any harassment issues are to be reported immediately to a member of the

NORCON

team or Event Security.

NORCON

has a clear *no weapons* policy that will be enforced. All weapons must be non-working and peace bonded. No functioning projectile weapons – including water pistols, silly-string guns, and ping-pong pistols. Bladed weapons must be cased or sheathed at all times. Any weapon used in an offensive manner will be confiscated and you may be asked to leave the event. We expect you to use good judgment.
With your help, we can continue to allow peace-bonded weapons.
NO alcohol or smoking or vaping is allowed in the venue.
It is against the rules of

NORCON

to place or hand out flyers/cards at

NORCON

. Flyers/cards on an open table in the convention area will be removed and disposed of. If you are handing out material in the convention area or its immediate grounds, you will be asked to stop. If it continues, you will be removed from the convention and the immediate location.
Celebrities and Guests WILL not accept any handover of personal contact details or material for other Conventions or Events.
Cameras are permitted, please be aware though that celebrities are there for everyone to meet and some people can get a little "Star Struck". Please be considerate to those waiting behind you and not block up the line. Celebrities may charge for "Selfies"

NORCON

reserves the right to refuse admission. Our decision is final.
We may use the information collected on our newsletter subscription service and ticket sales service to share information with advertisers and sponsors. You may cancel your subscription by emailing us direct or using the unsubscribing option in newsletters or emails.
Official Photographs taken at

NORCON

by

NORCON

authorised photographers can used on our website may be used for other promotional purposes and will become the sole property of NOR-CON Events Limited. NOR-CON Events Limited are NOT responsible for any photographs taken by third parties or individuals and their use or distribution.
Images or photographs submitted for the inclusion on the

NORCON

website gallery or the

NORCON

Facebook pages "may" be used for marketing purposes for

NORCON

purposes only.

NORCON

are not responsible for any images from our website of Facebook pages that are used by any other party.
The content of the pages of this website is for your general information and use only. It is subject to change without notice.
This website uses cookies to monitor browsing preferences.
Neither we nor any third parties provide any warranty or guarantee as to the accuracy, timeliness, performance, completeness or suitability of the information and materials found or offered on this website for any particular purpose. You acknowledge that such information and materials may contain inaccuracies or errors and we expressly exclude liability for any such inaccuracies or errors to the fullest extent permitted by law.
Your use of any information or materials on this website is entirely at your own risk, for which we shall not be liable. It shall be your own responsibility to ensure that any products, services or information available through this website meet your specific requirements.
This website contains material which is owned by or licensed to us. This material includes, but is not limited to, the design, layout, look, appearance and graphics. Reproduction is prohibited other than in accordance with the copyright notice, which forms part of these terms and conditions.
All trademarks reproduced in this website, which are not the property of, or licensed to the operator, are acknowledged on the website.
Unauthorised use of this website may give rise to a claim for damages and/or be a criminal offence.
From time to time, this website may also include links to other websites. These links are provided for your convenience to provide further information. They do not signify that we endorse the website(s). We have no responsibility for the content of the linked website(s).
Your use of this website and any dispute arising out of such use of the website is subject to the laws of England, Northern Ireland, Scotland and Wales.
Traders, Exhibitors and Invited Groups
INSURANCE
The Exhibitor must maintain Public Liability Insurance with a reputable insurer throughout the event against his/her liability to third parties with a minimum limit of £5,000,000. A copy of this insurance certificate must be produced at any time on request. The Exhibitor must also ensure that they have adequate, relevant insurance to cover all liabilities, including cancellation and curtailment, as well as loss or damage to the Exhibitors property. The Exhibitor also agrees to indemnify The Organisers, its officers, staff, representatives and agents against all or any claims, which may arise.
LIABILITY
The Organisers, its officers, staff, and representatives shall not be liable for any loss, theft, damage or injury to persons or property on The Norfolk Showground site. The Exhibitor will assume full responsibility for any third party claim arising from his/her own exhibit or conduct.
COMPLIANCE
All exhibitors shall observe and comply with, in addition to these terms and conditions, all relevant laws and other directions, codes of practice or guidelines imposed by The Organisers and/or any law or other competent authority applicable to the event.
DISCLAIMER
The Organisers, its officers, employees, agents and representatives shall have no liability whatsoever in respect of all and any action, claim, demand, proceedings, costs, expenses, fines, penalties loss or damage whatsoever arising out of or connected with the participation by any person firm or company in whatever capacity in the event including but not limited to arising or resulting from or connected with the loss injury or damage sustained by or to any third party, any refusal by insurers to meet in full or in part or at all any claim or the seizure or taking of possession of any equipment. This shall not operate or be construed to operate to exclude or restrict the legal liability of The Organisers for death or personal injury caused by its negligence. Each entrant for itself and all those for whom it is directly or indirectly responsible shall indemnify and hold The Organisers harmless from and against all costs and expenses of whatever nature, actions, proceedings, claims, demands and damages made against The Organisers, its offices and/or representatives arising from any breach of its obligations to The Organisers or from any acts or omissions on the part of the entrant and/or those for whom it is so responsible.
Upon any Ticket Purchase, Booking or invitation to attend, you are agreeing that you have read and are accepting these Terms & Conditions.